Atherton, California
Client:
 Olson Sundberg Architects
Dates of Service:
 1993-1994
Project Summary:
 This large, new, and technically complex home was located on a very challenging site with extensive subterranean moisture and highly-expansive clay soils, posing the twin risks of sub-grade leakage and large differential movement due to the expansive soils.
Other exterior envelope components included cast-in-place concrete, wood siding, single-ply membrane low-slope roofing and standing-seam metal sloped roofing, window systems, etc.
PL: BECS Services: PL: BECS consulted the architect in all aspects related to the building's exterior envelope elements, with a particular emphasis on the challenging sub-grade and sub-slab drainage and waterproofing systems. PL: BECS provided detailed recommendations for the under-slab drainage and waterproofing, including specialized detailing to allow for a high degree of differential movement while maintaining the water-tight integrity of the sub-grade elements.
PL: BECS also provided detailed recommendations for roof system ventilation, roofing materials, and detailing, interior concrete floor joint layout and design, etc.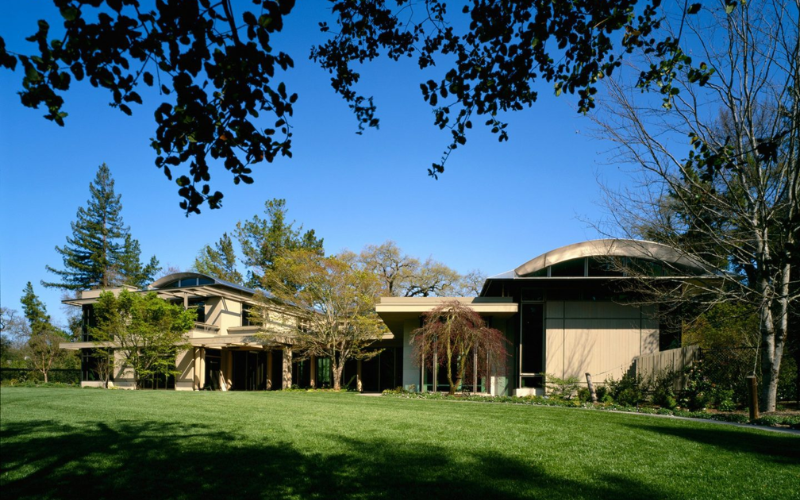 The Garden House's Architectural Marvels
Grand Entrance: As you approach the Garden House, prepare to be awestruck by its plush foyer. As you approach this world of beauty and charm, you will find a beautifully wrought iron gate adorned with intricate floral designs. Once the gate is opened, a path lined with fragrant flowers leads to the heart of this enchanted paradise.
A Mix of Styles: The Garden House successfully blends classical elegance with cutting-edge modern design. From quaint cottages to ultra-modern pavilions, each structure displays a unique synthesis of architectural styles. Overall, the appeal of the site is enhanced by the skillful blending of many different architectural motifs.
Scenic Outdoor Space: The Garden House's outdoor spaces are beautiful and invite exploration and relaxation. Cozy corners with comfortable seating are great for quiet contemplation or lively exchanges with friends. Cozy gazebos hidden among flower beds create a lovely setting for intimate ceremonies. There are pleasant surprises around every corner of the Garden House, beckoning visitors to it.
Conclusion
The Garden House in Atherton, California, was a complex home designed by Olson Sundberg Architects in 1993-1994. The site faced challenges with subterranean moisture and clay soils, posing risks of sub-grade leakage and differential movement.
BECS consulted the architect on exterior envelope elements, including sub-grade and sub-slab drainage and waterproofing systems. The house features a grand entrance, a wrought iron gate with intricate floral designs, and a mix of styles, including cottages and pavilions. The outdoor spaces are beautiful, and inviting for exploration and relaxation.