Port Angeles, Washington
Client:  Schacht-Aslani Architects and Peninsula College
Dates of Service:  2008-2010
Project Summary:  Cladding made of thick metal panels and brick veneer that allows for extensive airflow. Long-lasting window curtain walls. This new college building protects its exposed exterior walls from the elements by hiding its manufactured wood-resin wall panel system within deep recesses.
Coppers shining through the wall, in addition to their functional drainage duty, contribute to the architectural language of the building that extends far beyond the brick veneer. The roof of this building is designed to encourage the growth of moss rather than inhibit the moist environment of the Olympic Peninsula.
PL:BECS Services: PL:BECS not only provided guidance to Schacht-Aslani Architects during the design phase but also provided installation supervision during construction. Design specifications included both general assembly and exterior specifications. Due to the deep, impermeable glacial soil at the site, the floor of the performance hall is well below grade, requiring a sub-slab drainage system and redundant, two-layer bentonite waterproofing in the on-grade slab floor.
The building's exterior cladding consisted of copper flashing, aluminum windows and panel wall systems, and galvanized steel masonry ledgers, all of which needed to be insulated to prevent electrolytic corrosion. A heat-welded single-ply roofing system was chosen because of its low cost and the fact that it could cope with the building's complex features.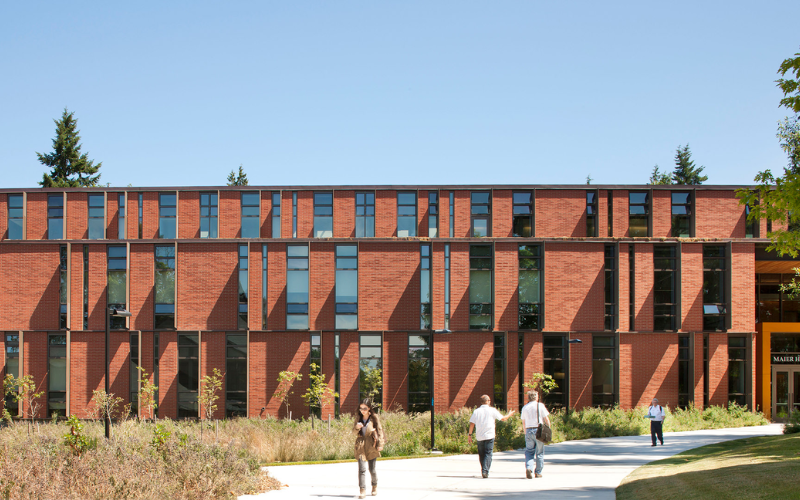 Reviewing shop design and product rendering for external components, assisting with mock-ups, supervising installations, and other related services were provided during the construction period.
Arts and Creativity: In addition to its academic offerings, Maier Hall is also a bustling center for artistic expression and innovation. The Peninsula College School of Arts and Sciences, located in the same building, offers courses in digital media, music, drama, and visual arts.
The art studios, practice rooms, and performance stage found in Myer Hall provide space for students to showcase their talents and hone their craft.
Community Engagement: Maier Hall is engaged with the surrounding community, expanding its reach beyond the boundaries of the university. Locals can interact with professors and talented students along with the arts at any of the cultural events, exhibitions, performances, and guest lectures presented in the hall.
These events not only help the students and faculty on campus but also the community at large.
Collaborative Spaces: Maier Hall recognizes the importance of collaboration and interdisciplinary learning, thus it has created friendly common spaces where students from different majors can meet, exchange ideas, and work on collaborative projects. These settings foster a sense of togetherness and encourage the exchange of ideas, leading to new and comprehensive strategies to address issues.