Seattle, Washington
Client: Schacht-Aslani Architects
Dates of Service: 2008-2010
Project Summary: The new Opportunity Center for Employment and Education had to be fitted into a web of already-existing buildings on the North Seattle Community College campus, presenting unique challenges.  The new structure, composed of cast-in-place concrete and steel framing, is clothed with metal panel wall cladding, curtain-wall and store-front window systems, and modified-bitumen and single-ply exposed as well as planted roofs.
In addition, hot-rubber waterproofing and fluid-applied deck coatings are used at various decks.  Sub-grade conditions include sub-slab drainage systems and bentonite waterproofing below the lowest-level slabs and at sub-grade walls.
PL: BECS Services: PL: BECS assisted the architect in the design of the exterior envelope.  Services pertained to a selection of appropriate exterior assemblies, products, and materials for the numerous different conditions and the design of proper exterior details.
To cost-effectively address the site's wet soil conditions, PL: BECS recommended that sub-slab drainage systems be incorporated below the lowest level floor slabs, in combination with bentonite waterproofing below these same slabs and at sub-grade walls.
To minimize the risk of potentially very costly repairs which could result from earthquakes in this seismically-active region, a cushioned, multi-layer membrane system isolated from the structure was recommended at the planted roofs.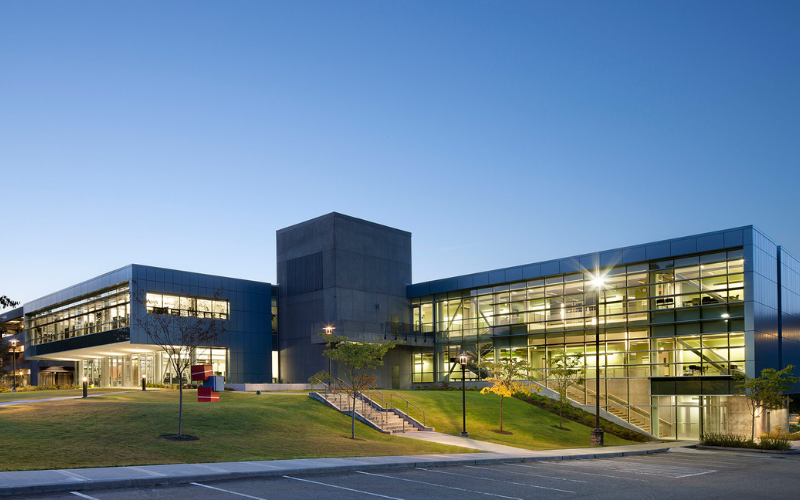 Where hot-rubber deck waterproofing was dictated by existing conditions, a fabric-reinforced system was recommended to limit the risk of membrane ripping at cracks in the concrete substrate. A full backup system of building wraps with drainage flashings and weeps was incorporated behind the exterior metal wall panel system to provide protective redundancy for these weather-exposed walls.
The Importance of Community Colleges
Community colleges serve an essential purpose in the higher education system by making higher education more widely available and affordable. They serve as entry points to further education, professional development, and personal growth for a wide variety of people, from high school dropouts to those taking a break from school.
Community colleges give students the resources they need to achieve their educational goals, including small class sizes, a wide range of program options, and supportive learning environments.
The Role of the Opportunity Center
North Seattle College's Opportunity Center is a leading hub for academic and professional development resources. Its primary objective is to help people bridge the gap between educational and professional opportunities by providing them with the resources, guidance, and encouragement they need to achieve their professional goals.
Opportunities Center understands that education is a process that transforms people and as a result, students need support in all areas of their development, not just education.
Linking Education and Career Path
North Seattle Community College's Opportunity Center advisors help students figure out which courses to take when to take them, and the degree they need. It helps students identify potential careers, match those interests with academic programs, and discover experiential learning opportunities such as internships and co-ops.
By bridging the gap between higher education and professional goals, the center empowers its visitors to make well-informed decisions and lead fulfilling lives.
Providing Support and Resources
The Opportunity Center recognizes the connection between students' mental and emotional well-being and their academic performance. Academic advising, counseling, and learning resources are just a few of the many ways this center helps students succeed in school.
The site also provides information on financial aid, scholarships, and other opportunities for students to help pay for college. The Opportunities Center creates a safe and engaging environment for all children by meeting their individual needs.