Seattle, Washington
Client:
 Keller-Rohrback Attorneys
Dates of Service:
 1999
Project Summary: This recently completed waterfront condominium building consists of 5 stories of wood-framed construction atop a 2-level garage of post-tensioned concrete. Its enclosure systems included stucco and vinyl siding, vinyl windows as well as an aluminum curtain-wall system, and torch-down modified bitumen roofing.
The building began experiencing severe and extensive leakage shortly after its construction.  An investigative report prepared by another consulting firm placed significant blame on deficient framing and window installation, resulting in a very costly claim against the framing subcontractor, who also installed the windows, and whom PL: BECS represented.
PL: BECS Services: PL: BECS was retained to provide technical consulting to the framing contractor's attorney. PL: BECS reviewed the other firm's investigative report, observed extensive testing and destructive uncovering of various enclosure systems, performed a detailed examination of the building, and provided a detailed analysis to the attorney.
The PL: BECS investigation confirmed that many of the claims made against the framing contractor were without basis.  Decks described as having inadequate drainage slopes in fact had slopes exceeding those stipulated in the construction drawings.
Window installation methods conformed to industry practice, and leakage at these windows was found to result from the failure of the units themselves, rather than reflecting poor installation. The PL: BECS investigation also confirmed that the overall scope of needed corrective work, and associated costs, were grossly overstated.
The findings provided by the PL: BECS investigation resulted in a very favorable settlement for the framing contractor.
A Premier Waterfront Residence
The 1300 Alki Condominium is a luxurious seaside residence that provides a peaceful escape from the bustling city. Each condo unit in the complex was built to the highest standards of elegance and craftsmanship. 1300 Alki Condominium is the perfect home for you, whether you're seeking a quiet retreat or a lively community.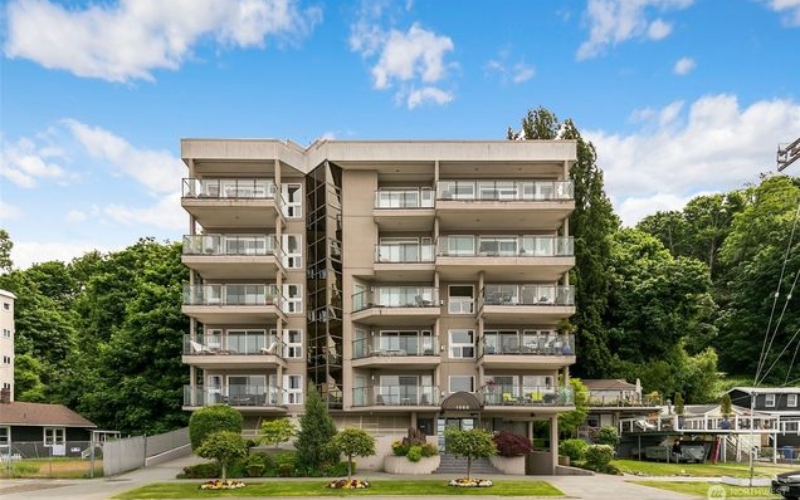 Exquisite Design and Architectural Brilliance
The 1300 Alki Condominium is a work of architectural and design genius. The big windows, modern aesthetic, and clean lines create an effortless flow between the indoors and outdoors. The smart interior design is reflected in the luxurious details, spacious layouts, and copious amounts of natural light.
Unrivaled Amenities for a Sophisticated Lifestyle
The 1300 Alki Condominium provides its tenants with a variety of high-end amenities that are second to none. A state-of-the-art fitness center is available to residents, making it easy to maintain an active routine. In addition to the rooftop terrace, whose breathtaking views of the city skyline and the waterfront make it ideal for hosting gatherings or just relaxing, the property also features a beautifully landscaped courtyard, great for quiet reflection.
Prime Location: Alki Beach
One of the many appealing aspects of the 1300 Alki Condominium is its prime position on Alki Beach. Alki Beach is a popular tourist destination thanks to its sandy shores, picturesque surroundings, and energetic vibe. The beach is conveniently located for residents, who may go for strolls, participate in water sports, or simply take in the sights. The variety of restaurants, cute shops, and exciting activities ensures that there is never a dull time.