A technology called sub-slab drainage and waterproofing is employed to stop water from penetrating a building's foundation. It entails laying down a layer of drainage material, such as gravel or stone, beneath the slab and covering that layer with a waterproof membrane.
Benefits of Sub Slab Drainage and Waterproofing
Installing a sub-slab drainage and waterproofing system has many advantages.
These advantages consist of:
Preventing water damage to the foundation and structure
Lowering the possibility of mold and mildew growth
Increasing the structure's lifespan
Improving the structure's energy efficiency
Types of sub-slab drainage and waterproofing systems
Systems for waterproofing and sub-slab drainage come in a variety of forms. The most typical varieties include:
Systems with bituminous membranes: These systems use a coating of bitumen, an asphalt-like substance, to produce a waterproof barrier.
Cementitious membrane systems: These systems build a watertight barrier out of a layer of cementitious material, like concrete or mortar.
Systems that use hot-applied rubberized asphalt: These systems apply a hot asphalt layer over an insulation layer.
Preformed sheet membranes: These systems install a waterproof film over the drainage material, often made of polyethylene or EPDM. The foundation's gaps and cracks are filled using injection grouting and cavity grouting technologies, which use grout materials like cementitious grout or polyurethane foam.
Other sub-slab procedures (such as liquid polymers, bentonite clay, etc.): These systems employ different components and procedures to provide a waterproof barrier.
Reasons for employing sub-slab drainage and waterproofing techniques
A sub-slab drainage and waterproofing system may be employed for a number of purposes. These motives consist of:
To stop the formation of mold and moisture in basements and crawlspaces
To prevent water damage to foundations
To increase a building's energy effectiveness
To prolong the life of a building
Must abide by construction regulations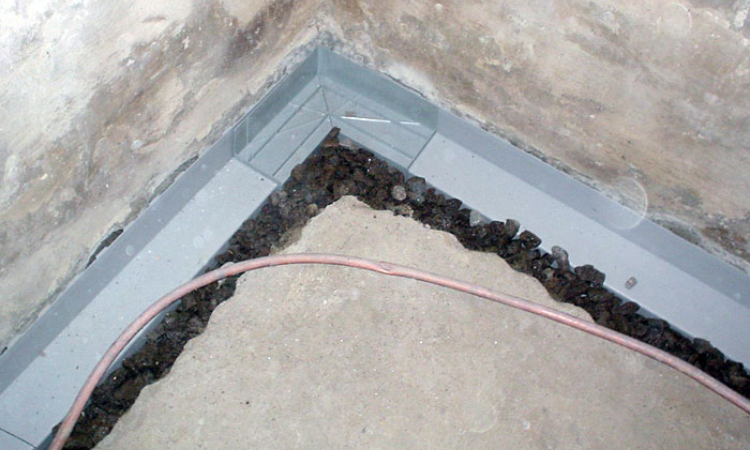 How to determine which Sub-Slab system is best suited for your structure?
Several elements will determine which sub-slab system is ideal for your structure, including:
The nature of the building
The weather
The state of the soil
Spending plan
If you want to choose the ideal sub-slab system for your particular needs, it's necessary to speak with a skilled contractor.
Considerations when choosing a system for your structure
When selecting a sub-slab drainage and waterproofing system for your building, there are a few factors to take into account. These consist of:
The system's structural load capacity
The system's price
Site circumstances
The additional work that was necessary
It's crucial to pick a system that works with the kind of building and the soil conditions. Choosing a system that is economical and easy to install without creating too much inconvenience is also crucial.
Installation procedures for different types of sub-slab systems
The methods for installing various sub-slab drainage and waterproofing systems vary. However, the fundamental procedures are usually the same. These actions comprise:
1. Clearing the vicinity of the foundation
2. Putting in the drainage components
3. Setting up the water-resistant membrane
4. Filling the space surrounding the foundation with backfill
Maintenance Requirements
Distinct sub-slab drainage and waterproofing system types have distinct upkeep requirements. However, the following are some general principles:
Checking the system frequently for leaks or damage
As required, system maintenance
Changing the system as necessary
Conclusion
In order to prevent water damage, sub-slab drainage and waterproofing are crucial components. You may contribute to extending the lifespan of your construction and avoiding expensive repairs by picking the appropriate system and adhering to the recommended maintenance practices.
I hope this information was useful. Please feel free to ask me any questions you may have.