Seattle, Washington
Client: Blessed Sacrament Church
Dates of Service: 1999-2001
Project Summary: This early 20th-century chapel stands out in Seattle's University District. The building's framework consists of steel columns encased in concrete, which support a steel-trussed roof covered in slate, and multi-wythe load-bearing walls accented with pre-cast concrete and sandstone portions.
Inappropriate materials, poor detailing, and poorly thought-out geometries have already begun to show in the structure's early stages of disintegration.
PL:BECS Services:  PL:BECS provided assistance in three distinct stages of this undertaking.
The first step was to visually inspect the entire building's exterior for signs of deterioration that could pose a threat to the safety of the building's occupants. These dangers were recognized and located at all building heights, and PL:BECS provided recommendations for mitigating them.
After that, PL:BECS conducted a comprehensive evaluation of the south transept and the surrounding regions to identify any major problems and provide advice on how to restore the building's long-term stability. Several crucial problems were uncovered through this investigation.
It was of the utmost worry that the corrosive expansion of embedded steel reinforcement was causing extensive and evident damage to several pre-cast concrete components. Also problematic was the poor design of the roof gutters, which led to water seeping into the masonry walls and hastening their deterioration.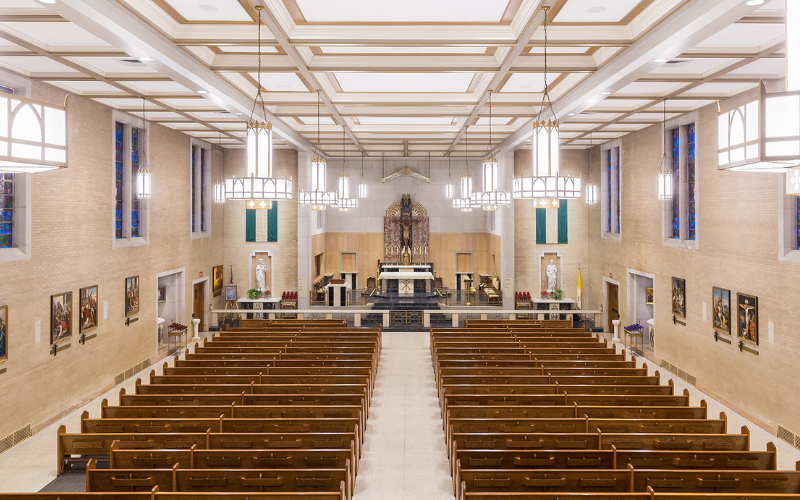 Other problems included spalling of brick and exfoliation of sandstone components, corrosion of veneer ties, inadequate securement of pre-cast concrete elements, and significant leaking. This study analyzed 22 individual components and found some to be possibly dangerous owing to seismic vulnerability.
On February 28, 2001, only six weeks after the PL:BECS report was released, the largest earthquake to hit Seattle in forty years disrupted the third phase of services. In order to determine whether or not the insurance was responsible for fixing the building following the quake, PL:BECS conducted a comprehensive inspection of the structure.
This proved that the worst damage occurred in areas that had previously been identified as being vulnerable to earthquakes. Spotting newly created seismic damage was greatly facilitated by using the earlier, incredibly detailed PL:BECS reports.
A Place of Worship: Providing a place for worship and congregational prayer is a primary focus of Blessed Sacrament Church. The church holds regular services such as daily Mass, Sunday worship, and other important religious events. The church can come together as a spiritual family in these gatherings, deepening their ties and commitment to one another.
A Spiritual Oasis:  For many, Blessed Sacrament Church is much more than a building to be seen on Sundays. It is a place of solace in times of trouble, spiritual guidance, and connection with the divine through prayer and introspection. Its sacred walls provide an atmosphere of peace and calm, inviting anyone who enters to take a break from the stress of daily life.